Media Releases
Reminder to all! The Countdown is on. Anangu Pitjantjatjara Yankunytjatjara (APY) CHOIR will be performing at WOMADelaide this Sunday 13th March, 2016 at 5.15pm.
Make sure you get in early, for a show not to be missed. Check out  WOMADelaide Website for more information: www.womadelaide.com.au.
For those people not able to be in Adelaide please tune in to 5NPY, this broadcast will be proudly brought to you in partnership with APY Administration and PITJANTJATJARA YANKUNYTJATJARA MEDIA, the Performance will be Live across the Lands.
APY 2016 - CHOIR Story
The APY Choir has been formed as a combination of some of the originals from the (Ernabella Choir) it includes the children of the Choir members and also children who attended the Ernabella Mission School.
The APY Choir perform regularly at funerals and special events; they have been selected to form the APY CHOIR to perform at WOMAD, 2016.
The Choir sings in 'Acapella' in their own language of Pitjantjatjara, Choir Members are representatives from the APY Lands Communities.
This Choir brings the Old and New together in forming the APY CHOIR for 2016.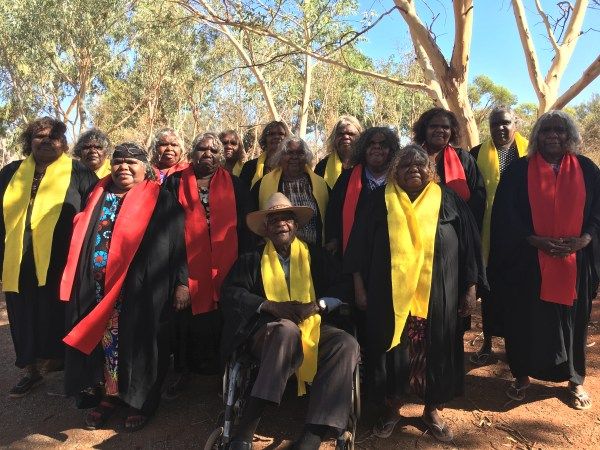 Picture of some of the APY CHOIR Members Rehearsal
This would not be possible without our funders and ongoing supporters.  We would like to extend our thanks to:
APY Administration
Aboriginal Affairs and Reconciliation - Department of State Development                            
WOMADelaide
PY Media- 5NPY
Ananguku Arts and Culture Aboriginal Corporation
Communications and Community Engagement People and Business-  Department of Planning, Transport and Infrastructure
Indulkana School
TAFE SA- Umuwa Trade Training Centre
Adelaide Shores Resort
Kura Yerlo Incorporated
On behalf of the APY Executive, General Manager, Director and staff we wish the APY Choir every success with their performance. We look forward to sharing more of the story with you in the weeks to come.
Anangu Pitjantjatjara Yankunytjatjara is pleased to announce that Members of APY formed a new committee which is called "The APY Law and Culture Committee".
APY Law and Culture Committee Members include:
| | |
| --- | --- |
| Committee Members Name | Community |
| 1. Paul Andy | Pukatja |
| 2. Yuminia Ken | Pukatja |
| 3. Charlie Anytjipalya | Watarru |
| 4. Gordon Inkatji | David's Well |
| 5. Richard Kanari | Pipalyatjara |
| 6. Josephine Mick | Pipalyatjara |
| 7. Mary Pan | Amata |
| 8. Kanytjurin | Amata |
| 9. Cedric Williamson | Kaltjiti |
| 10. Molly Miller | Kalka |
| 11. Roger Edwards | Mimili |
| 12. Peter Mungkari | Iwantja |
The APY Law and Culture Committee are scheduled to meet on Tuesday the 8th December, 2015.
Please Note: This committee is not to be confused with the recently established Pitjantjatjara Yankunytjatjara Law and Culture Pty Ltd run by Mr Murray George. This Company does not have any standing to carry out functions on behalf of APY Executive Board under the Anangu Pitjantjatjara Yankunytjatjara Land Rights Act. The group have chosen to become fully independent of the APY Executive board and seek independent support for their activities.
Richard King
General Manager
Anangu Pitjantjatjara Yankunytjatjara (APY) held a Special General Meeting (SGM), on Friday 6th November, 2015 at 11am.
The meeting was well attended by 60 Anangu from the APY communities. The member communities and outstation were 80% represented at the Special General Meeting.
SA GOVERNMENT RAMS THROUGH LAWS TO ALLOW AN INTERVENTION ON APY LANDS
The South Australian Labor Government has succeeded in pushing through discriminatory legislation through the upper house, which will mean Minister Hunter can stage an intervention on the APY Lands.
If the Bill is endorsed by the lower house, it will mean Minister Hunter can suspend the board and appoint an Administrator, who will have complete control over APY.